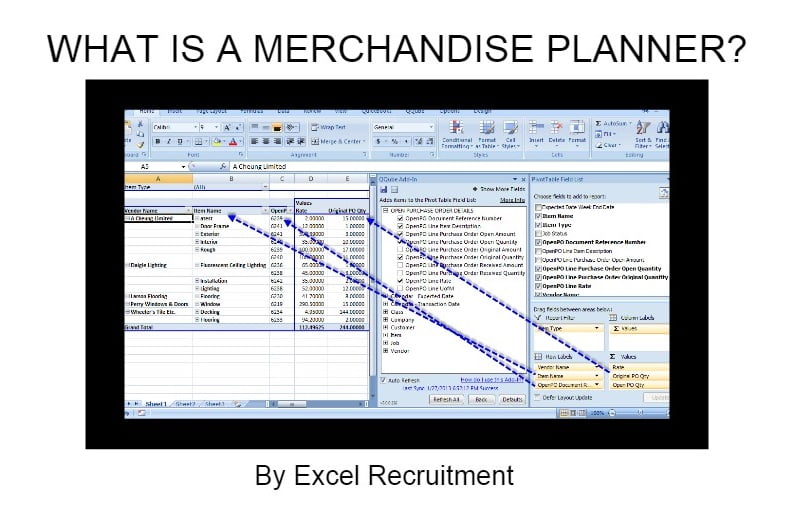 There is a surplus of jobs to candidates as the demand for Merchandise Planners is higher than ever. A Merchandise Planner is a highly skilled and niche job, that offer well-paid and rewarding career paths. Establishing a career as a Merchandise Planner affords you the opportunity to be immersed in a competitive and progressive industry. Merchandise Planners are imperative to the functionality of the Fashion Industry. Their premise in a company or organisation is to ensure that the logistics in place drive profit. They are highly numerical, data driven, deciphering highly complex reports and quantitative figures and determining business based decisions on all of these facets. Another noteworthy point is the confusion between Visual Merchandisers and Merchandise Planners which we recently covered here.
Merchandise Planners have an enviable skill set. There is often misconception that to work in fashion you must be predominately creative. Merchandise Planners think and solve. They are commercially minded and analytical. While Retailers needs creativity, they also need profit and that is driven and determined by a Merchandise Planner. They will ensure that stock is in the right place at the right time. They will be astute and apace with cultural trends and demographics. They can determine in advance what stock will be needed and where it will sell best.
A store located in a young, urban and creative city will sell alternative stock than a rural location with a median population that is considerable older. The Merchandise Planner will ensure that the correct type and quantities of stock are in place in both locations to optimise sales and profit.
Merchandise Planners are high in demand. They have an amalgamation of many skills and are rewarded with competitive salaries and benefits, some which include.
Constant job openings with the biggest retailers, all year round
Paid travel and mileage
Being appreciated for their niche expertise
Broad career path and numerous choices
Attractive salary scale
What you need to become a Merchandise Planner
Third Level
Preferred.
Degree Type
Ideally within Business, Supply Chain and/or Finance
Key Skills
Analytics ability, Reporting, Data analysis and proficiency, ordering systems, advanced Microsoft Office especially Excel, Negotiation. Numerical skills, Understanding of Retail Maths and how to convert to profit
Salary
Entry Level: €24,000

Median Level: €50,000

Top level: €90,000

Experience
1-3 years within Retail
Have we got you curious? We've written this blog on steps to become a Merchandise Planner and outlines exactly what we look for when receiving applications for the ongoing Merchandise Planner jobs we have available. Want to work in an International buying office with the world's biggest retailers. Merchandise Planners are just as crucial to the operation as Retail Buyers.